News

›

CoSA in the local news
CoSA in the local news
Posted by: Elisabeth Josset 3 months, 3 weeks ago

Coronado School of the Arts Celebrates National Award Of Excellence; Tackles Challenges In Distance Learning With Creativity.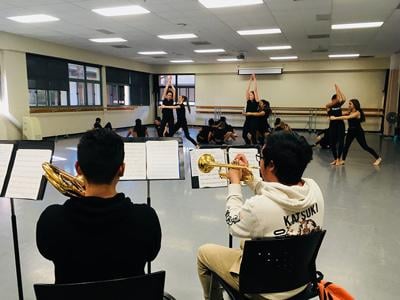 An official in-person celebration will have to wait until social distance measures ease, but staff, students, and families in the Coronado School of the Arts (CoSA) program at Coronado High School are honored to receive the Arts Schools Network (ASN) Exemplary School designation. The prestigious recognition is awarded to schools that excel in strategically evaluating their school's purpose, operations, and educational programs. It is a five-year designation for 2020-2025. In honoring CoSA the ASN (the nation's largest professional membership organization of specialized arts schools) states that CoSA students are "talented, creative, focused, and determined." ASN also recognized the selective admissions process and that "CoSA embraces, encourages, and empowers artistic creativity and academic excellence... in a nurturing environment focused on individual growth, opportunity, and diversity."
Coronado High School Principal Shane Schmeichel agrees, "I personally know the impact CoSA and arts education has had on thousands of students' lives, it is great to be recognized not only by the state of California as an exceptional educational experience, but now also by the highly respected (ASN). I am very proud of the hard-working teachers and students in CoSA - (they) make a difference."
For the staff and students at CoSA however, the national recognition does little to help with the unprecedented challenge CoSA's six conservatories face in distance learning as a result of the COVID19 pandemic. By its nature, CoSA is a place where students collaborate; dancing, making music, building, and creating side by side with their peers. More so than traditional school subjects, most CoSA classes rely on personal connections and being physically present.
Many annual fall and winter events have been creatively amended for virtual participation or canceled altogether. There will be no fall musical recital or theatre production; but the Musical Theatre and Drama students are working on plans for a virtual production called Songs for a New World, scheduled to be released in video format Nov. 12, 13, 14. Likewise, the fall dance recital, scheduled for Dec. 11-12 will be a video production.
The conservatory with the least impact from distance learning is Digital Arts, where students focus on Animation, Filmmaking, Game Design and Graphic Design. Although students can still create and collaborate online, they are not able to personally showcase their work in public; which is a significant part of a student's development and experience.
Fortunately, CoSA teachers are creative and innovative and they continue to seek new and novel ways to give students a platform to develop their skills and showcase their accomplishments. Liz Josset, CoSA's program assistant summed up the mindset in starting this school year, "the focus of our staff right now is to connect and engage with our students until we can see them in person on campus." For contact information and a calendar of CoSA events visit www.CoSASanDiego.com.
Share on Twitter
Share on Facebook